In his independent work Jeroen Kool shows his drive and enthusiasm for experimental work and detail. The materials and ways of construction are the main focus in  his work. A good piece of chestnut or walnut wood can be an inspiration for a sleek and minimal design cabinet. All his individual work is for sale.
Jeroen Kool (Middelburg 1980) is a passionate designer and furniture maker with a great love for timeless design and perfectly finished furniture, closets and kitchens. He is an educated furniture and instrument maker with his own workshop/design  studio in Amsterdam since 2006.
He receives commissions through architects, interior designers and individual clients. You will find his custom made designs and work in numerous companies and homes: kitchens, staircases, walk in closets, bathrooms, cabinets, tables and so forth. His work shows a great passion for ingenious solutions, for the craft and the primary ingredient: wood.
A big inspiration for Jeroen Kool is Italian design from the 50's and 60's: that period of time where shape and craftsmanship came together in an iconic way and which today is the essence of his own design. Each client is different, each design unique, no two pieces of wood the same, but the wish to connect functionality with beauty and craftsmanship is always there and continues to be an important motive.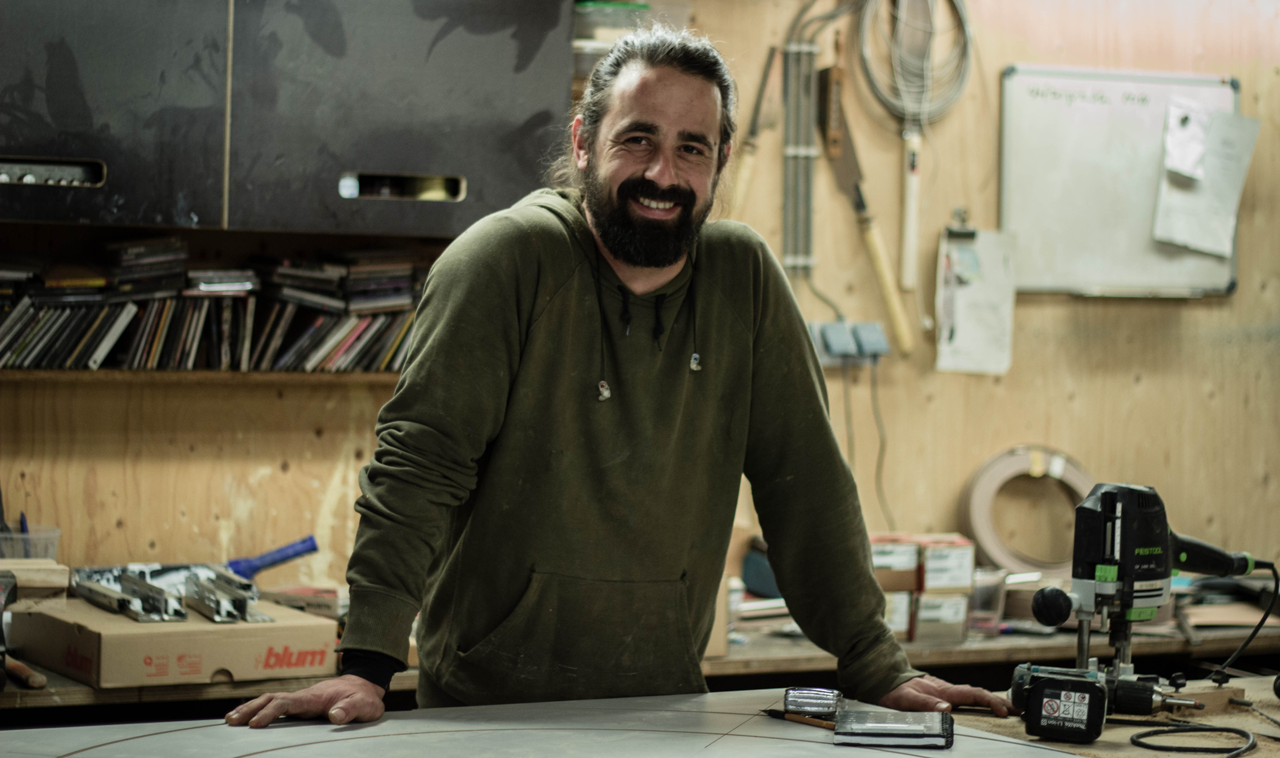 After a client has contacted Jeroen Kool for a potential furniture piece, an appointment is made (either at the clients residence or in the workshop) to discuss ideas and possibilities after which Jeroen Kool will send a quote. After the quote and the design are approved and first payment has been completed, he will start the commission. The furniture piece will be built in his workshop and, once it's finished, installed at location.
Team
Jeroen Kool has a team of freelancers to help him in his work. He also, on occasion, collaborates with Daan Mulder, interior designer. (www.daanmulder.eu)
Internship
Jeroen Kool educates/mentors numerous students from the Hout & Meubilering College through internships.
Interested to know what Jeroen can suggest for your home or office?
Please don't hesitate to contact him for a noncommittal appointment.
Rijksstraatweg 186 LDS, Duivendrecht, Amsterdam
+31 6 4553 4882
jeroenkool@jeroenkool.nl
This page is also available in: Dutch